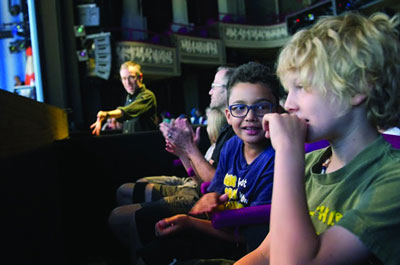 After a tireless year and a half of courting one of the most coveted shows on Broadway, Nick Sala, associate producer of Inside Broadway, was able to secure "Wicked" for one of this year's Creating the Magic events. This popular show, written by Stephen Schwartz (music and lyrics) and Winnie Holzman (book), regularly plays to sold-out houses, making this coup a true feat of magic. Bravo!
Inside Broadway and its Creating the Magic program are truly important to the future of live musical theatre in NYC. The series presents excerpts of Broadway shows to select audiences of NYC schoolchildren. "Wicked" was one of three Creating the Magic presentations this year. The others were Leonard Bernstein's "On the Town" at the Lyric Theater and "Mamma Mia" at the Broadhurst (pictured above).
Sala speaks passionately about his program. "There are so many hardworking, dedicated people who work behind the scenes that go unnoticed," he told me. "I'm thrilled that Creating the Magic gives them a chance to take the stage and shine. Our city's young people need to know these are viable careers."
The impact of the Creating the Magic events continue to astonish me. At "Wicked," the anticipation was palpable as the 1,600 or more students from various New York public schools piled into the Gershwin Theater for the afternoon program. Anxious for the show to start, the students began feverishly clapping and cheering until the house lights were dimmed and the band started to play. Suddenly, all eyes went upwards as a woman, secured by a harness, flew back and forth above the stage. The kids went wild with excitement as their applause became a roar. Everyone finally settled down when Glinda appeared suspended in her trademark transparent bubble, singing the opening number with her magic wand in hand. From her lofty perch, she introduced Inside Broadway's president, Michael Presser, who acted as MC for the afternoon's proceedings.
The program moved seamlessly between musical numbers and various demonstrations from the crew about lighting, sound and props. As usual, the presentations were informative and entertaining, illuminating how the actors, musicians, stage managers and crew depend on each other to create a live Broadway show.
Local 802's Financial Vice President Tom Olcott addressed the students, reaffirming the overall theme of the afternoon: a Broadway show is about collaboration of the many different performers and technicians who contribute their talents and skills nightly to a live production. Olcott also spoke about Local 802 as well as the other entertainment unions and their historic importance on Broadway.
Local 802 member David Evans conducted the rhythm section, made up of pianist T.O. Sterrett, drummer Matt Vanderende and bassist Konrad Adderley. Standing center stage with Michael Presser for what has now become an integral segment of the Creating the Magic presentations, Evans talked about the role of the orchestra and the conductor in a Broadway musical.
Evans told me later, "I had a great time that day, and the kids seemed totally into it. I met a bunch of them afterwards and they were so appreciative. They wanted my autograph, but of course had no pens or paper, so several of them had me sign their hands and arms! I was impressed with how deafening the noise was beforehand, and how totally rapt they were once we got started. The fact that they wanted to meet me and high-five me at the end speaks volumes about how interested and appreciative they were of the musical element – more than many in your average paying audience! It was a lovely experience. And I'm certain every one of them was anxious to come back and see the show for real."
Each of these Creating the Magic presentations provides a unique experience for everyone involved. The students, many of whom have never been in a Broadway theatre, get to peek behind the curtains of a Broadway production. The behind-the-scenes personnel get the opportunity to take center stage. The actors and musicians are able to share their personal stories with the students and perhaps inspire a few of them to explore a career in the theater. Rather than heed the warning of the Wizard of Oz, the audience is, instead, encouraged to please "pay attention to that man behind the curtain" – the wondrous machine behind the magic of a live Broadway musical.

This story originally appeared in the volume 115 no. 9 issue of Allegro, the magazine of the New York City musician's union (AFM Local 802). It is reprinted here with permission. The original link to this story is at: http://www.local802afm.org/2015/08/were-off-to-see-the-wizard